COMBINE/MINI CAMPS
We use several metrics to evaluate an athlete's performance. Our training will combine all of the skills that athletes possess before we evaluate any player. We feel that a 40 yard dash does not tell the entire story of an athlete speed, and one bench press for reps segment does not tell us how strong an athlete truly is. That is why we put our athletes through our Combine, which is a group of timed and measured skills and drills. We will test them on speed, proper technique, strength, and preparation. The Mini Camp section of our Camps will test the athletes ability on the football field. The athletes will perform Football skills and drills perform in Helmets and Shoulder Pads with Upper Body Contact. Each athlete at every football position will go through at least 8 different football position drills. This will test their knowledge of the game in addition to the physical and mental agility of the athlete.
CAMP FORMATS EXPLAINED
Combine
This camp is designed to measure the athletes total Football ability as well as the measurable skills such as:
Bench Press for reps power
Broad Jump for explosiveness
Short shuttle for quickness and change of direction
40-yard dash for speed
Those are some of the traditional NFL Combine measurables that are the true indicators of a athletes ability per timed, reps, power, and agility.
The Mini Camp
One day camp – Registration begins at 7am and camp runs through to 5pm.
This camp measures the athletes ability to play football. The skill set and knowledge of the game is measured through agility drills, one-on-one drills, team drills, hand-to-hand combat against another player, and engaging in helmets and shoulder pads upper-body contact.
Position Camp
One day camp – One hour per individual position skills, drills, and contact.
Each position will conduct 8-10 individual drills that will test and gauge the athletes knowledge of his position as well as teach the athlete the proper way to play the position.
Each position skills set will take one hour. This section is performed in helmets and shoulder pads.
Training is the major key that you are in control of at this point in your career, if you are not ready to play you will not get to prove yourself on any field. Separate yourself from the crowd with your training and skills.
The other key is know how to training to become bigger, faster, and stronger. The UNGL has designed the key areas for you as a player to focus on per position.
Find your position and get busy, these are the tools to help you be the best you can be, and that will help the UNGL become the best league that it can be.
BREAKDOWN BY POSITION
Quarterback
Drills:
Individual routes
Spot Movements
Flush Movements
Evaluation:
Arm strength
Escape ability
Quick set up
Accuracy long
Accuracy short
Wide Receiver
Drills:
Individual Routes: Ins, Outs, Post, Comeback, and Dig
Evaluation:
Hands
Adjust to ball
Line awareness
Release
Receive short/long passes
Tight End
Drills:
Wave
Drive Block
Mirror
Fold
Routes
Evaluation:
Hands
Patterns
Run ability
Adjust to ball
Line awareness
Running Back
Drills:
Over Bags
Toss
Individual Routes
Plant Drive
Evaluation:
Hands
Run instincts
Elusive runner
Block run/pass
Power running
Offensive Line
Drills:
Wave
Pull
Mirror
Angle Drop
Set & Turn
Evaluation:
Initial quickness
Pass blocking
Run blocking
Pulling
Punt snap
Defensive Line
Drills:
Wave
Pass Rush
Re-Direct
Hi-Low Bag
Shuffle
Evaluation:
Pass rush
Quickness
Pursuit
Recognition
Shed blockers
Linebacker
Drills:
Pass Drop
Pass Rush
Hip Turn
Angle Drop
Bag Weave
Re-Direct
Evaluation:
Instinct
Pass drops
Pass coverage
Pass rush ability
Hands
Defensive Back
Drills:
Back peddle
Turn
Deep Hip Turn
Drop and Drive
Hitch and Go
Ball Catch
Evaluation:
Read and react
Ball reaction
Man coverage
Hands
Closing speed
Range
PUNTERS/KICKERS
Read and react
Tackling drils
Angle tackles
Ball placement
Hangtime
Directional kicking control
Rapid fire long snapping (15 balls)
Speed and placement of snaps
Special Team Camp Format
Kickers will be evaluated on hang time, being accurate, and field placement.
Punters will be evaluated on hang time, being accurate, and distance.
Long Snappers will be evaluated on, snaps, speed, being accurate, placement, and consistency.
Punt and Kickoff returners will be evaluated on their ability to catch ball, speed, following blocks, and big play ability.
All drills will be performed at full speed upper body contact. All drills and plays will be scripted.
Special Teams Events:
kick-off
kick-off return
punt
punt return
field goal
field goal block
3. ONE ON ONE POSITION VS. POSITION CAMPS
a. OL/TE vs. DL
b. QB/WR/TE vs. DB
c. LB vs. RB
This camp will consist of position individual drills and one on one drills vs. other position in helmet and shoulder pads upper body contact drills and scripted plays. These camps are performed on different days. The camps are designed to test the athlete's football ability and physical ability against live action.
National 7 on 7 Elite Passing League Tournaments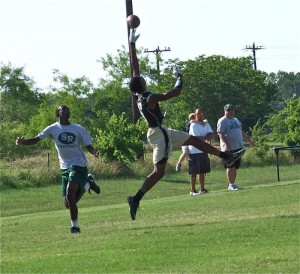 West Coast Tournament & Athletes Network present:
National 7 on 7 Elite Passing League Team Football Tournaments
These camps provide instruction for all offensive and defensive positions. The WCT/ANT football staff will teach the basic fundamentals and emphasize individual techniques in order to develop better overall players and those that want to fit within the team concept.
Each camper will select an offensive and/or defensive position and may split times of instruction for a well-rounded experience. Campers will learn the basic fundamentals that will give them the opportunity for success in their budding football careers.
WCT/ANT highly experienced coaching staff will offer a hands-on approach in dealing with the younger campers, helping them to appreciate the game of football to its fullest.
At the camp, every individual will receive as much special attention as required to enhance the experience of the youngest players. Finding a position those best suits his abilities without the distraction of older players and pointing each camper in the right direction are goals of the camp.
This camp is for all serious players, regardless of position. This is a non-contact camp, but each participant will be required to wear a helmet and shoulder pads to allow maximum teaching of proper technique.
The offensive lineman will work in the areas of pass blocking; run blocking and recognizing defensive fronts and promoting communication among the men in the trenches.
Defensively, emphasis will be in the areas of defeating or avoiding the different run blocks, perfecting skills for rushing the passer with football and hand-to-hand techniques as well as many other fundamentals.
The Skills Camp for offensive and defensive players is an outstanding way to prepare players for the mental focus needed for the season as the total football atmosphere will be re-created.
Players can not only work on individual techniques, but then meld those skills into the framework of offensive and defensive systems.
The four day, four hour a day practice sessions will provide the athletes, veteran and rookie alike, with an exposure to the competitive atmosphere they will encounter in the fall.
7 ON 7 FOOTBALL CAMP FORMAT
Day 1
5pm-9pm
5-530 group stretch
530-6 group agility
6-630 position drills ( Def man coverage/Off route tree: ins ,outs ,digs ,curls, post and slants)
630-715 one on ones
715-730 Break
730-800 Def/Off Install (plays: Def Cover 1 man coverage, Cover 2 zone coverage/ Off short routes ins, outs, curls and dig routes)
8-815 Group Recognition Walk Through
815-900 7 on 7 Team
Day 2
5pm-9pm
5-530 group stretch
530-6 group agility
6-630 position drills
630-715 one on ones
715-730 Break
730-800 Def/Off Install ( Def cover 3 and cover 4/Off Play action screen package)
8-815 Group Recognition Walk Through
815-900 7 on 7 Team
Day 3
5pm-9pm
5-530 group stretch
530-6 group agility
6-630 position drills
630-715 one on ones
715-730 Break
730-800 Def/Off Install ( Def Red Zone/ Goaline Package 20 yards and in to end zone/Off Red Zone Goaline Package 20 yards and in to end zone Package)
8-815 Group Recognition Walk Through
815-900 7 on 7 Team
Day 4
5pm-9pm
5-530 group stretch
530-6 group agility
6-630 position drills
630-715 one on ones
715-730 Break
730-800 Def/Off Install ( Def 2minute drill defense and scramble drill/Off 2 minute drill offense and broken play scramble drill)
8-815 Group Recognition Walk Through
815-900 7 on 7 Team
900 Closing Comments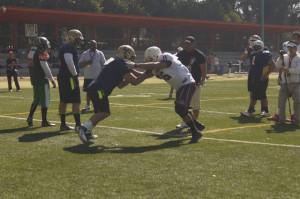 9 on 9 Inside Lineman Challenge
Athlete's Network presents:
9 ON 9 INSIDE LINEMAN CHALLENGE
The WCT/ANT is proud to introduce a safe, instructional and educational Offensive vs. Defensive Lineman Challenge without pads, with limited contact. The Soft Game Breaker Helmets will be used.
This competition will consist of Five Offensive lineman: 2 Guards, 2 Tackles 1 Center and 1 Tight End. There will also be 1 Quarterback and the following backfield options 2 Backs or 1 back and 2 Tight Ends for Double Tight formation.
On Defense depending on what type of front you run you can have 5 Lineman and 3 Inside backers. 4 Lineman and 4 Linebackers. 3 Lineman, 2 outside backers and 3 inside backers. 4 Lineman 3 , Inside backers and a Rover.
This will be a RUN ONLY Challenge, no passing plays will be permitted.
The objectivity on both sides of the ball is the following:
1. Use proper footwork and body positioning.
2. Be quick off the ball.
3. Use proper hand placement.
4. Read, React and Redirect.
5. Back will learn how to read and follow their blocks.
6. Backs will learn to develop excellent cutback vision.
First of all we promote safety first; all of our players will wear Game Breaker Soft Helmets. We feel anytime you play this game contact or non-contact you must protect yourself from a possibly head injury.
Secondly we will play a fast break, press coverage, passing and great coverage challenges.
1. FIELD DIMENSIONS
A. Field Length — 45 yards long
B. Field Width — 160 feet (60 feet to hash mark, 40 feet between)
C. End Zone — 10 yards deep
2. STARTING THE GAME
A. Each site will have a designated central time keeper. All games will begin and end on this person's instructions. They will also announce the time remaining at the 10, 5, and 2 minute marks.
B. Visitors will have first possession and wear white (top team in bracket or first team listed will be the visitor). The home team will have first possession in the 2nd half and wear a dark color (bottom team in bracket or 2nd team listed will be the home team). NO TEAM WILL BE ALLOWED TO PARTICIPATE WITHOUT SHIRTS! Team sidelines must be on opposite sides of the field. Visitors (wearing white) will line up on the right side of the field when facing the end zone. Home (wearing dark) will line up on the left side of the field when facing the end zone.
C. No High School football jerseys shall be worn. T-shirts, Under-Armour-type or basketball-type sleeveless shirts are permitted. We recommend that all teams have shirts with numbers on the back.
D. Players are permitted to wear standard football cleats with plastic or rubber spikes. NO METAL SPIKES ARE ALLOWED!
E. Ball always placed on right hash mark when at the 45-yard line.
F. Each team will use its own ball during offensive possessions. 8th and younger divisions may use either High School or Middle School standard size footballs. High School divisions (9th and up) MUST use the standard size high school sized football.
G. Referee will announce score before each offensive possession begins.
3. MOVING THE BALL
A. No kicking/punting.
B. Field is marked at 15 yard intervals with cones. (3 first downs without a penalty would result in a TD).
C. Possession always begins at the 45 yard line at the right hash. No penalty will be assessed in excess of the 45 yard line. If a penalty would move the offense beyond the 45 yard line, the offensive team shall be charged with a loss of down.
D. Offenses always move in the same direction
RULES
1. Once the momentum of the ball carrier is stopped the play is dead.
2. Once the ball carrier is touched the ball is dead.
3. No blows to head are permitted on both sides of the ball.
4. Once the ball carrier slips or falls the ball is dead.
5. Fumbles are dead and loss of possession by defense.
6. Shuffle and screens are permitted.
7. Offensive Holding is a 10 yard penalty and Automatic First Down.
8. Defensive punch or slap is an Automatic First down.
9. First Down is very 10 yards.
10. All run plays are acceptable, inside or outside running pass. If you run the option, spread option, wing tee the Quarterback is eligible.
11. Team with most points or combines gained yardage wins.
12. Offensive must maintain 5 Offensive lineman on the line at all times.
13. NO HEAD TO HEAD CONTACT WILL BE PERMITTED EVER.
· TIME
A. 20-minute halves (continuous clock for each half–see: "starting the game").
B. No time outs. (EXCEPTION: Injuries. Both games on the Field will halt until player(s) can be be removed as soon as safety dictates).
1. 10-minute halftime/10 minutes between games.
2. 7-on-7 tournaments require that all games start/end at the same time. If a team(s) is(are) late and cannot start when the tournament officially starts, they will begin play with whatever time is left on the tournament clock. (Not to exceed 10 minutes of 1st half. Forfeit will occur after 10 minutes of the 1st half) IT IS IMPERATIVE TO KEEP TO THE TOURNAMENT TIME SCHEDULE. Teams must be on site and ready to play when scheduled). Injury time outs may reduce the amount of time between halves and/or between games to maintain the game schedules.
5TH Quarter
Lineman Football Challenge Explained
Each Offensive and Defensive will participate in One On One Pass Rush and Run Block Drills. Man On Man Hand to Hand Combat.
WCT/ANT REDZONE
7 ON 7 Football Challenge FAQ
Q: What makes WCT/ANT 7 on 7 different?
A: First of all we promote safety first; all of our players will wear Game Breaker Soft Helmets. We feel anytime you play this game contact or non-contact you must protect yourself from a possibly head injury.
Secondly we will play a fast break, press coverage, passing and great coverage challenge.
Q: What is your 5th Quarter?
A: Our version of the 5th quarter is a Situational Football Challenge. Each team will have one series against a defense to gain as many yards and touchdowns that they can. In the following Football Situations:
1. 2 Minute Drill starting from the 40 yardline.
2. Redzone starting from the 30 yardline.
3. Goal line starting from the 10 yardline.
4. Overtime starting from the 25 yardline.
Q: What exactly is 7-on-7 Football?
A: 7-on-7 football is a program that many high schools and middle schools run during the off-season. 7-on-7 is played without pads and receivers are downed by one-hand touch (there are no flags involved). 7-on-7 is also a passing only game – there are no offensive rushing plays and defenders cannot rush the quarterback.
Q: What positions are the players on the field?
A: On offense, QB snaps to himself under center, from shotgun or pistol formations. There is 1 quarterback, and a combination of running backs, tight ends, and wide receivers equaling 5 players – basically, all of the players on a regulation offense except for the offensive guards and tackles. Accordingly all offensive players must properly align themselves according to regulation football rules (2 eligible receivers must be on the line of scrimmage while all other receivers must be at least one yard off of the line of scrimmage). On defense, you may have 7 players in any combination of linebackers, safeties, and cornerbacks.
Q: If there is a running back that means I can call a running play right?
A: No. Running plays are not allowed. However, just as in regulation football, the running back is eligible to go out for a pass.
Q: If I can't rush the quarterback, how do you keep the quarterback from holding the ball forever?
A: Defenders cannot rush the quarterback; however the quarterback must throw the ball within 4 seconds of the snap of each play. An official will use a stopwatch to time each play, from the snap to the release of the football. The official will allow the play to complete, regardless of whether the quarterback exceeded the 4 seconds allowed to throw the ball. However, upon completion of the play, if the official's stopwatch exceeds 4 seconds, then the play will be ruled an incompletion, regardless of what happened on the play.
Q: Do we have to get jerseys made?
A: No, but your team must have both matching colored shirts and matching white shirts – the visiting team will wear white shirts and the home team will wear colored shirts in each game.
Q: Do I have to wear a mouth guard?
A: We require each player to wear a mouth guard. Although 7-on-7 is a non-contact sport, occasionally collisions do occur. Mouth guards both protect your teeth and, more significantly, help to prevent concussions.