UNDRAFTED FREE AGENT DIAMONDS
READ THIS MESSAGE THOROUGHLY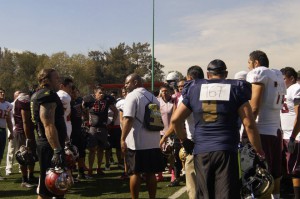 CALL ASAP AND LETS GET YOU STARTED
I am looking for the best talent from D1AA,D2,D3 HBCU and NAIA. That will not get a Pro Day or Drafted and I will evaluate their skill set from top to bottom, then I create a correctable workout process to help them get to the level that the Pro organization wants them at. Once I feel that you are ready I send your info to two well respected NFL Agencies that I represent looking for talented guys that have not yet played in the league DIAMONDS. My services are to find guys that should be in the league. I have played, coached and scouted at the next level, this is our way of giving back. That is why my fees are so low. So my question to you is if you sign up with us allowing me to shop you and you talent around the league, would you consider playing at the Next level NFL or CFL if there is some interest from some organizations.
My company offers no promises or guarantees. But we do offer a legitimate chance to get exposure, a very detailed evaluation of your skills and some corrective workouts and advice on how to improve your skill set to enhance your chances of playing at the next level. This is our way of giving back to the game by helping those that need it.
Why are you not signed yet? , Your skills are above this level. You need to get with the right management team. Go to www.globalsportscouting.com/california then click Athletic Development Services, then choose Pro Services drop down tad VIDEO AND EVALUATION Service $100 and purchase through Pay Pal. And we can get started. Also sign up at players.youthfootballtrainingnetwork.com
IF THEY CAN'T FIND YOU THEN THEY CAN'T SIGN YOU
My job is to help you get great exposure to the proper leagues. I report my evaluation to the top level leagues and agents looking for the Diamond Undrafted players. So get started!
I am not a scout from a team I represent two top NFL Agencies looking for talented guys that have not yet played in the league DIAMONDS. My services are to find guys that should be in the league. I have played, coached and scouted at the next level, this is our way of giving back. That is why my fees are so low. So my question to you is if you sign up with us allowing me to shop you and you talent around the league, would you consider playing at the Next level NFL or CFL if there is some interest from some organizations. Your profile is what the teams will see.
Here is the entire process.
1. Player is identified as a possible Professional football player NFL,CFL,AFL
2. Player provides me with current or available game or workout video, in which I will evaluate. I will also need a current 40 , shuttle and L drill performed on video as well as bench press 225 for reps depending on your position and a broad jump.
3. Once video is evaluated, I will give the athlete a detailed written evaluation of my findings, and I will give them a correctable written workout to be performed to help enhance their skill set.
4. Once the athlete feels that they are ready I will need them to perform 8 position drills that I will provide for them on film as well as the timed drills again on film for me.
5. Once I feel as though you are ready to go , at that point I will turn your film over to both of my NFL Agent business partners and with their approval the athlete will be shopped around to the Professional Organization that needs their skill set.
This is just a great opportunity to get to seen and position yourself to play at the next level. There are NO GUARANTEES! Just hard work and effort.
Michael Greer
5105526285
athletesnetwork1@gmail.com
Coach Greer 5105526285
www.globalsportscouting.com/california
players.youthfootballtrainingnetwork.com