Athletes Network Player Recruiting Service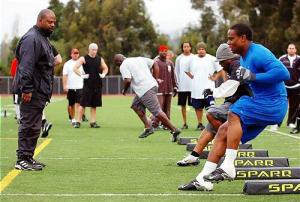 In order to find a college athletic scholarship you need to be willing to actively promote yourself to college coaches and engage with them throughout the college recruiting process. Coaches can't recruit you if they don't know who you are In any
given year a college sports program will begin their recruiting efforts by actively evaluating hundreds of potential recruits. Coaches won't be recruiting you or offering you a sports scholarship unless they know who you are. It is your responsibility to get the coaches attention by emailing them, calling them or by joining online recruiting networks.
Know what to do during every step of the college recruiting process.Our college athletic recruiting website and blog are full of great free recruiting resources to help you maximize your potential throughout the entire recruiting process. Whether you are looking for information about contacting coaches, tips for making a recruiting video or want help in properly negotiating for a scholarship we can help.
Scholarships are available at all levels Don't just focus on a NCAA DI scholarship. Over 85% of college scholarship opportunities are available at the NCAA DII, DIII, NAIA and NJCAA levels. By expanding your search and contacting more schools you will give yourself a better opportunity to land that coveted athletic scholarship.
Find the right university and team.Being a college athlete is not just all about going to the biggest school you can. A critical question to consider when thinking about a particular school is, "would you want to go to that school if you weren't an athlete and on scholarship?" Your athletic scholarship is never guaranteed and it is always a good idea to be prepared to stay in school if you lose your scholarship. Also, the majority of your time at school will be spent outside of practice and competition. Make sure you enjoy where you go to school and it fits what you are looking for in a college.
Don't let academics hold you back. Academics can often be the deciding factor between two equally talented athletes. Don't assume that just because you are a college level athlete and meet the minimum requirements a school will be willing to accept you. College athletic programs are under a lot of pressure to keep the academic performance of their student athletes up and coaches are unwilling to take a risk with a athlete who isn't a good student.
It's up to you to take control of the college recruiting process and get proactive. There is only one sure thing in recruiting; if you aren't speaking with coaches you aren't being recruited.
What Can You Do During the Recruiting Process.The short answer is, there is nothing you can do to guarantee your spot on a team. However, there are questions you can ask and traits to look for during the recruiting process to reduce the chances of losing your spot on a team.
Go to the school showing the most interest for the longest time – Many times we see athletes who are always looking for a bigger or better offer. One of the risks of this strategy is that the teams who come to you late in the recruiting process are coming to you because they missed on their higher ranked recruits. For a more stable position on a team, go with the school showing the most interest for the longest time.
The higher the division level, the more pressure to win – College sports at the NCAA DI level is big business and the pressure to win is high. Coaches at this level are more likely to make the type of decisions that could cause an athlete to lose their spot on the team.
Coaches with a long tenure at a school are safer choices – As an athlete you want to find a stable program and generally, if a coach has been at the program for a while, that means the program is stable. However, it can also mean a coach is close to retirement or if the programs record is bad, they could be up for a coaching change. Make sure you look into how long a coach has been a school if you are considering that program.
Losing programs are at risk of a shakeup – It doesn't matter what division level, if a program has several years of losing in a row the likelihood of a coaching change coming is increased. Sometimes you will go to a losing program because the coach speaks passionately about turning things around. That is a fine and it can be something special to be part of a turnaround, but understand the risks that come with the decision.
Be wary of programs with high roster turnover – It is always a good idea look over the roster of any program you are interested in. One thing to look for is if athletes are leaving the program before their eligibility is gone. Look at the roster from one and two years ago and look at the underclassmen. How many of them are still on the team? If the underclassmen aren't staying on the team it should raise a red flag that maybe something is wrong and you should try to talk to the athlete who left before committing to the school.
Contact Us