Youth Football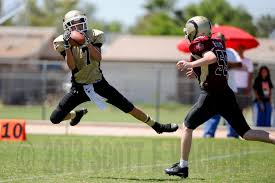 Youth Football Training
Youth Football Training Network is proud to announce that they are teaming up with Athletes Network a Top Level Organization that main focus is teaching football the right
way. Skills and Drills of the game is the main priority.
ATHLETES NETWORK TRAINING AND RECRUITING SERVICE
THE HOME OF YOUTH FOOTBALL AND HIGH SCHOOL FOOTBALL
High School and Youth Contact Football Camps
All campers will have the opportunity to train each day, work hard, improve, make new friends, and have fun. Each athlete is encouraged to develop new skills and achieve a new level of play and self-confidence. Campers work on conditioning, fundamentals and technique at individual positions, plus offensive and defensive team play.
Special team play and scrimmaging is also a big part of our programs. All phases of down-field coverages, wedge busting, tackling, blocking for punts, field goals, extra points, holding, kick-off, and kick receiving is covered. And after working hard all week, both individually and as a team, the final day 'live' scrimmage is the highlight of camp.
Campers are divided into teams by age, weight, size and ability. Using light and dark jerseys, teams scrimmage as parents, friends and the entire camp staff cheers them on. Every camper plays at least one-half of our scrimmage.
Camp highlights include:
— Athletes Network football instruction – lowest camper to instructor ratio
— Players carefully grouped by age and ability
— Skill development drills with qualified staff
— Special Topics: nutrition, injury prevention, cross training,
and sportsmanship
— Daily training to develop speed, strength and agility
— Evening chalk talk and film sessions
— Official Contact Football Camp Tshirt and prizes
— Great exposure to college coaches, including player evaluation
— Timed and tested in variety of drills
Athletes Network
High School and Youth Contact Football Camps will include the following:
1. Position drills
2. Contact drills
3. 9 on 7 inside run drill
4. 9 on 7 outside run drill
5. Team pass protection drill
6. Blitz package drill
7. QB-WR vs. DB one on one drill
8. OL vs. DL pass rush and run block drills
9. 7 on 7 passing drill
10. 11 on 11 run/pass drills
11. 2 minute drill vs. air
12. Defensive pursuit drill vs. air
13. Offense vs. defense scrimmage
?
ATHLETES NETWORK
Football camps provide an opportunity to participate in various aspects of football including: full contact drills and scrimmages, punting and kicking, passing and receiving, blocking, formations, strategy, and more. Learn the fundamentals of football and have fun playing from college and high school football coaches.
HIGH SCHOOL AND YOUTH CONTACT FOOTBALL CAMPS
Each day campers work on conditioning, fundamentals and technique at individual positions. Our offense program includes:
Quarterbacks – stance, center exchange, drop-back, setting up, passing, release, follow through, ball-handling, running, faking, reading defenses, leadership strategy and "triple option" roll out running and passing.
Runningbacks – stance, release, ball handling, faking, ball carrying, running, cutting, blocking, pass receiving.
Center – stance, exchange, blocking (run and pass), release, short and long snap.
Line – stance, release, all forms of blocking, pulling, agility, line-calls, strategy.
Ends and Flankers (tight and wide) – stance, release, pass-patterns, pass catching, running, blocking.
Kickers – punting, place kicking, holding.
Line – stance, release, charge, alignment, pursuit, reaction, agility, tackling, stunting, rolling.
Linebackers – stance, pursuit, pass coverage, territory-responsibility, tackling, blitzing.
Secondary – stance, alignment, pass coverage, deflect, intercept, tackling.
This site will also feature elite players from the Youth Football and High School levels, with their own bio page.
See you on the field,
Coach Greer