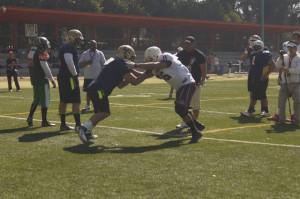 Training is the major key that you are in control of at this point in your career, if you are not ready to play you will not get to prove yourself on any field. Separate yourself from the crowd with your training and skills.
The other key is know how to training to become bigger,faster and stronger. Athletes Network has designed the key areas for you as a player to focus on per position.
Find your position and get busy, these are the tools to help you be the best you can be.
DRILLS PER EACH POSITION
QB: Drills- Individual routes, Spot Movements, and Flush Movements
QB Evaluation:
Arm strength
Escape ability
Quick set up
Accuracy long
Accuracy short
WR: Drills- Individual Routes: Ins, Outs, Post, Comeback, and Dig
WR Evaluation:
Hands
Adjust to ball
Line awareness
Release
Receive short/long passes
TE: Drills- Wave, Drive Block, Mirror, Fold, Routes
TE Evaluation:
Hands
Patterns
Run ability
Adjust to ball
Line awareness
RB: Drills- Over Bags, Toss, Individual Routes, Plant Drive
RB Evaluation:
Hands
Run instincts
Elusive runner
Block run/pass
Power running
OL: Drills- Wave, Pull, Mirror, Angle Drop, Set & Turn
OL Evaluation:
Initial quickness
Pass blocking
Run blocking
Pulling
Punt snap
DL: Drills- Wave, Pass Rush, Re-Direct, Hi-Low Bag, Shuffle
DL Evaluation:
Pass rush
Quickness
Pursuit
Recognition
Shed blockers
LB: Drills- Pass Drop, Pass Rush, Hip Turn, Angle Drop, Bag Weave, Re-Direct
LB Evaluation:
Instinctiveness
Pass drops
Pass coverage
Pass rush ability
Hands
DB: Drills- Back peddle, Turn, Deep Hip Turn, Drop and Drive, Hitch and Go, Ball Catch
DB Evaluation:
Read and react
Ball reaction
Man coverage
Hands
Closing speed
Range.
PUNTERS/KICKERS
1.read and react
2. tackling drils,angle tackles
3. ball placement
4. hangtime
5. directional kicking control
6. rapid fire long snapping (15 balls)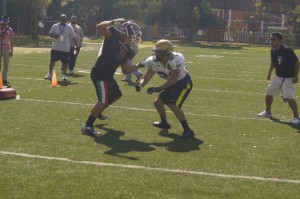 7. speed and placement of snaps
Special Team Camp Format
Kickers will be evaled on hang time, being accurate and field placement.
Punters will be evaled on hang time, being accurate and distance.
Long Snappers will be evaled on,snaps,speed, being accurate,placement and consistency
Punt and Kickoff returners will be evaled on their ability to catch ball,speed,following blocks and big play ability.
All drills will be performed at full speed upper body contact. All drills and plays will be scripted.
Special Teams Events:
kick-off
kick-off return
punt
punt return
field goal
field goal block
3. ONE ON ONE POSITION VS. POSITION CAMPS
a. OL/TE vs. DL
b. QB/WR/TE vs. DB
c. LB vs. RB
This camp will consist of position individual drills and one on one drills vs. other position in helmet and shoulder pads upper body contact drills and scripted plays. These camps are performed on different days. The camps are designed to test the athlete's football ability and physical ability against live action.